Skip to content
Thanks for choosing Missord :)
Missord Bonus Point Rules: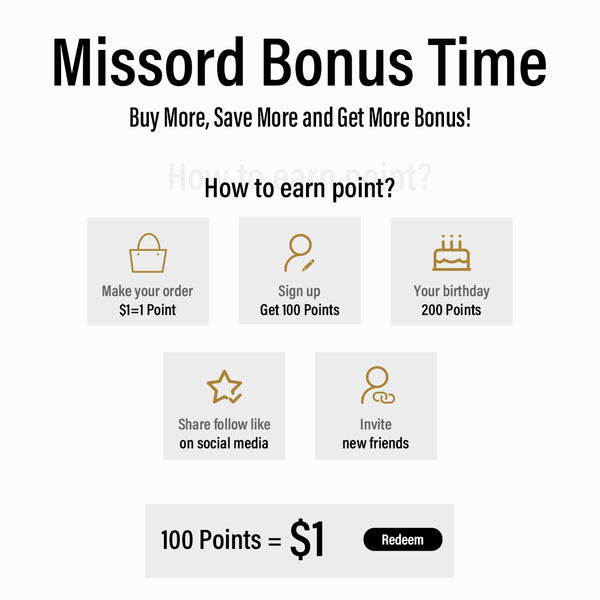 How to earn point?
1.Buy and Save
You'll earn 1 point for every dollar spent on your purchase.
Points will be credited to your account once you confirm delivery of your order.
2. Sign up
For every new customer, just sign up to be one of our member, then you can get 100 points.
And to celebrate your birthday, we will give you 200 points on your birthday.
You can share us on your faceboook & Twitter, when you share success, you can get 10 points.
4.Follow & Like us on social media.
If you like our brand and want to know more latest news, you can Follow us on Instagram and Like on Facebook, then you can get 5 points.
Referral rewards
Want get more points? Let your friends come with you!
If you feel satisfied with our products, you can recommend us to your friends.
When your friend comes to our store, he can enjoy a $5 discount for your referral, and you can also get a $5 referral bonus when he places an order successfully.
Sunday,Monday,Tuesday,Wednesday,Thursday,Friday,Saturday
January,February,March,April,May,June,July,August,September,October,November,December
Not enough items available. Only [max] left.
Add to Wishlist
Browse Wishlist
Remove Wishlist