Christmas shopping in the United States generally begins after Thanksgiving. Thanksgiving is the fourth Thursday of November each year, so it falls on the day after it, which is the first day of American purchasing. This year, Thanksgiving Day is November 24, Black Friday is November 25. Stunning gowns as one of essential list for black friday, are you ready for your dress must-buy list?
Here are 5 must-have prom dresses, have a look!
1.Formal One Shoulder Draped Sequin Wine Prom Dress XH2356
This dress is the hottest dress of the year. 4 best matches colors, wine red, black, royal blue, green, perfect for every skin tone. Available for size S-4XL, everyone can have a try no matter what figure you are. By using two of the hottest fabric of this year, velvet and sequin, you will shinning among a crowd in this dress. Splicing and ribbon design make the whole dress is not only not boring, but also worth to savor.
2.
Halter Neck Sequin Mermaid Gold Prom Dress M01081
This dress is a very classic style that will never go out of date. Recommend the four best-looking colors: golden, white, black and wine red. The gold color accentuates the shiny feel of this dress, especially under the light of banquet, modest luxury both fashion. White is very suitable as a wedding guest dress. Black highlight your curve and style. Wine red, very festive atmosphere, a good choice for Christmas dresses.
3.
One Shoulder A-Line Draped Sequin Maxi Black Prom Dress XH2172
This dress is also a very classic style of Missord. You'll feel like a queen when you wear this. The aura will become powerful all of a sudden and is perfect for parties where you need to show off your personality. In addition to black & golden, this year added a new silver color. More metallic sense and attractive.
4.
Sweetheart Neck Strapless A-Line Sequin Golden Ball Gown XJ1693
This dress is one of most popular sequin dresses that came out only recently. Rose gold will always look like a lady is very gentle. The design of the heart-shaped collar and the split mermaid design all make the whole dress look very elegant. The long-sleeved design also takes into account the cold winter weather. With a short faux fur coat outside, this look must be the perfect outfit in this fall/winter.
5. 
Puff Sleeve V Back Floor Length Sequin Prom Dress XJ901
If you don't want to show too much of your arms, you can consider this short-sleeved  sequin dress. In order to allow more ladies to wear this beautiful dress, we have expanded the size to 4XL this year. At the same time, we have added two new popular colors: rose gold and bright green. From the front, the design is very simple but with elegant. From the back, open v back with a bowknot, make this dress not simple, full with sense of design.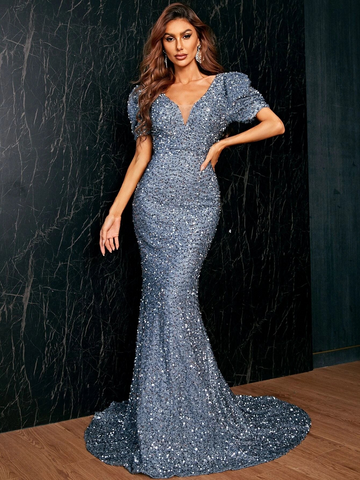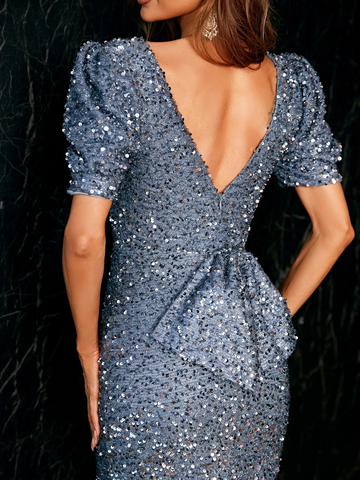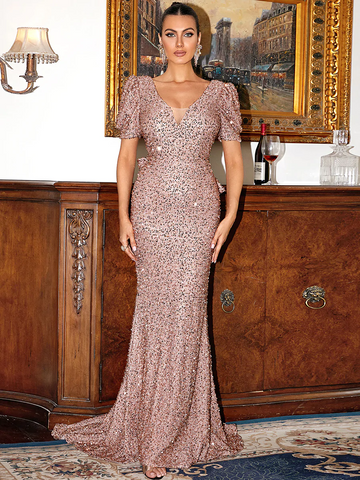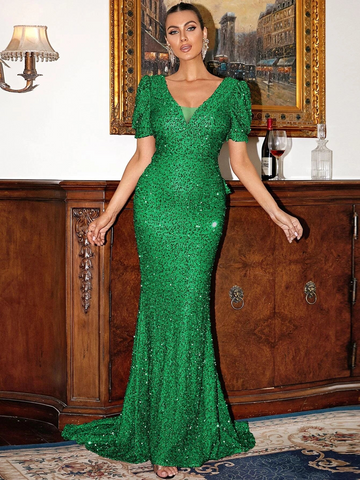 Want to see more creative prom dress? Come to missord prom dress list!